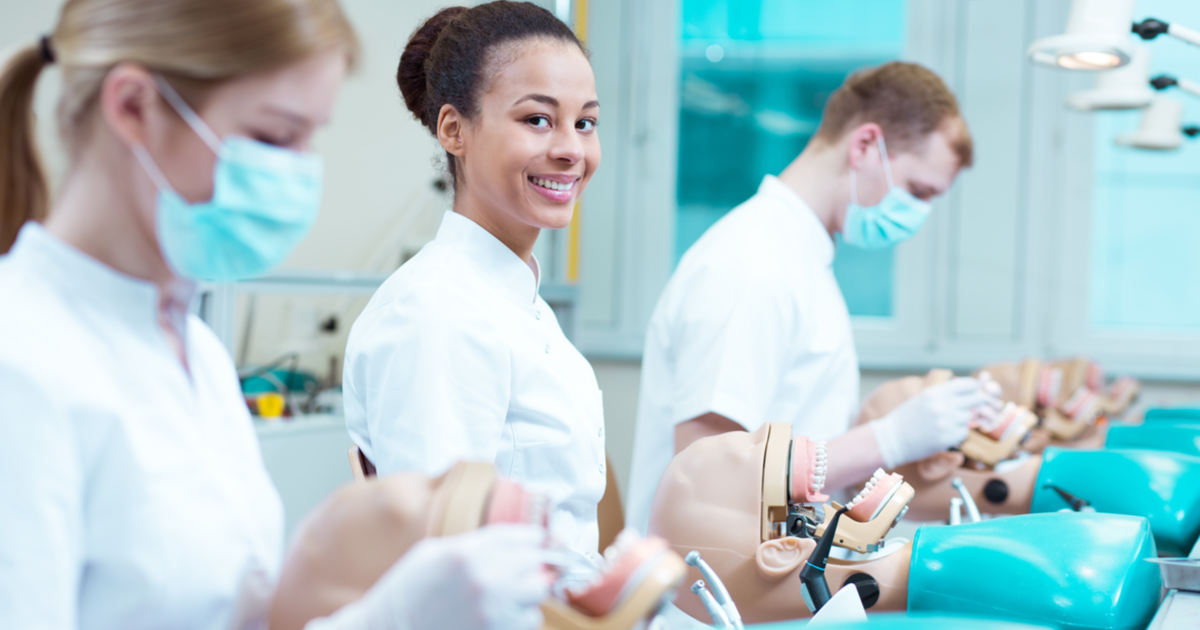 Almost every student has been dreaming of being enrolled in one of the best colleges of the country when studying in high school. And now, the high school times are over and you have an opportunity to make your dreams come true. If you dream of studying dentistry and you desire to work as a dentist in the near future, in all likelihood, you'll apply for more than just one dental educational institution, as the competition is usually really high. Yet, whatever great college or university you have chosen to pursue your future career, you'll need to provide some documents in order to be considered by the committee. One of them is your dental school personal statement, which must help grab the interest of the admissions committee.
A personal statement is an important addition to a resume. Basically, it is a short autobiography where you tell about your accomplishments and skills personally. Writing one does not seem hard, but some people find it difficult to make it nice, especially when it's a dental school personal statement. So, let us find out how to write such personal statements and how to make them perfect!
What Is a Dental School Personal Statement?
In a broader sense, they are used not only as a part of a college application. When you get a diploma and start looking for a job, you'll face the need to do this task to present yourself to a potential employer who will read your dental statement first and only after that, invite you to a job interview. Still, if we were to define a dental school personal statement, we would say that it's a piece of writing where you are selling yourself, showcasing strong traits of your personality and explaining why you are worthy of consideration.
If you wish to get accepted, you should follow our guidelines which help you stay noticed. There are some things which can lessen the chance to get accepted. Keep in mind all these aspects!
According to a definition, the paper you'll attach to your application form shouldn't be a bare enumeration of your skills and accomplishments. In fact, the admissions committee have to find all important details about your life in your other application documents. Therefore, you have to link each skill, ability, and experience to the main idea of your paper. And the main idea is to present yourself as someone who is worthy to be accepted and someone who will be working hard to get a degree.
What Dental School is Like
Dental school changes drastically from D1 to D4 year. For the most part the change is gradual, almost like the seasons. Winter fades to spring and spring to summer and so on and so forth. It's a slow process, with the temperature changing steadily as the weeks pass. Dental school operates in much the same way. You'd probably drop dead if you were asked to do a crown prep on a patient your first day of school, but by fourth year it's a task you wouldn't think twice about.

Although the transitions in dental school tend to be gradual, it still fluctuates in difficulty. Dental school is a series of ups and downs. Much like undergrad, some semesters are harder than others. Unlike undergrad though, all of your classmates will have the same coursework each semester, so you're never the only one who's overloaded with tough classes.

As a disclaimer, dental schools do vary in their curriculum. No two schools are exactly the same, but this article is intended to outline the general template of dental school curricula. Each school has unique elements about their curriculum. The most common differences between schools are rooted in how much clinic exposure they allow their underclassmen and how the human science courses are organized.
Sample Personal Statement Questions
Before you get down to writing the paper, you have to check with the requirements of the college you are applying for. If you, like many other students, choose several popular colleges, it doesn't mean you'll do with a single universal dental school statement sent to all of them. You'll need to write a unique paper, adjusting it to the unique features and requirements of each educational institution. That's where looking online for college personal statement examples is a good idea. It will help you get inspired. Yet, make sure you have found a reliable source with quality dental examples.

Most educational institutions have pretty similar requirements and don't set any strict limits on your application. What you should know is that there are three main kinds of questions you'll be asked to introduce yourself to the committee in a written form:
Some medical colleges just want to see how you are able to tell about yourself or your family. For example, the assignment may sound like this: "Describe where you see yourself in ten years and tell us how you are going to get there." Answering such a prompt, beware of losing control and telling just everything. You should pick a few important qualities you want to present and link them to the main topic – your future plans.
This type of questions requires you to write about your mission and explain how you have made a choice concerning your career and why you decided to apply to this particular higher educational establishment. Your whole story have to show a link between your mission and the college as a way to get that mission accomplished.
The purpose of an essay answering such a prompt would be to share your goals, show that you're a determined person who goes towards their goals, and, of course, show your commitment to this dental school. Colleges really like accepting committed students with a passion of studying.
Any other creative question.
Some institutions want a little more than your introducing yourself or complimenting them. They'll ask creative questions to see how you can handle unordinary assignments. The range of topics could vary from "a letter of thanks to your favorite professor" to "what would you do as a president". Here you should remember to stay within the limits of what is relevant to the course you are applying for and your future profession.
Seeing an excellent sample of graduate dental schools, students won't only give you some inspiration but also help you understand what is expected from you better. So, don't neglect samples that are published on the Web when preparing to write an essay.
Final Word
The way how you end your statement also matter. It is required for any student wishing to be noticed and enrolled in the higher educational establishment of their dreams. Writing about yourself is a rather difficult task because you never know what the committee is willing to see in you as a good student.
Therefore, you should try to imagine it, asking yourself "what do they expect?", "what would I expect if I were a member of the committee?", "which information should be omitted?", and similar questions to put yourself in the shoes of an admission committee member. Note that each of them has to look through dozens of applications, which is probably not that easy. So, try to catch their attention or make them smile with your paper.
If you are not sure how to write a dental school personal document (or your friend experiences difficulties with this task) and if you don't want your lack of skills to ruin the impression about you, address our team of professional writers. Our service has written hundreds of essays for students who were later accepted in the top institutions of the world. Order today, and ensure yourself successful future!